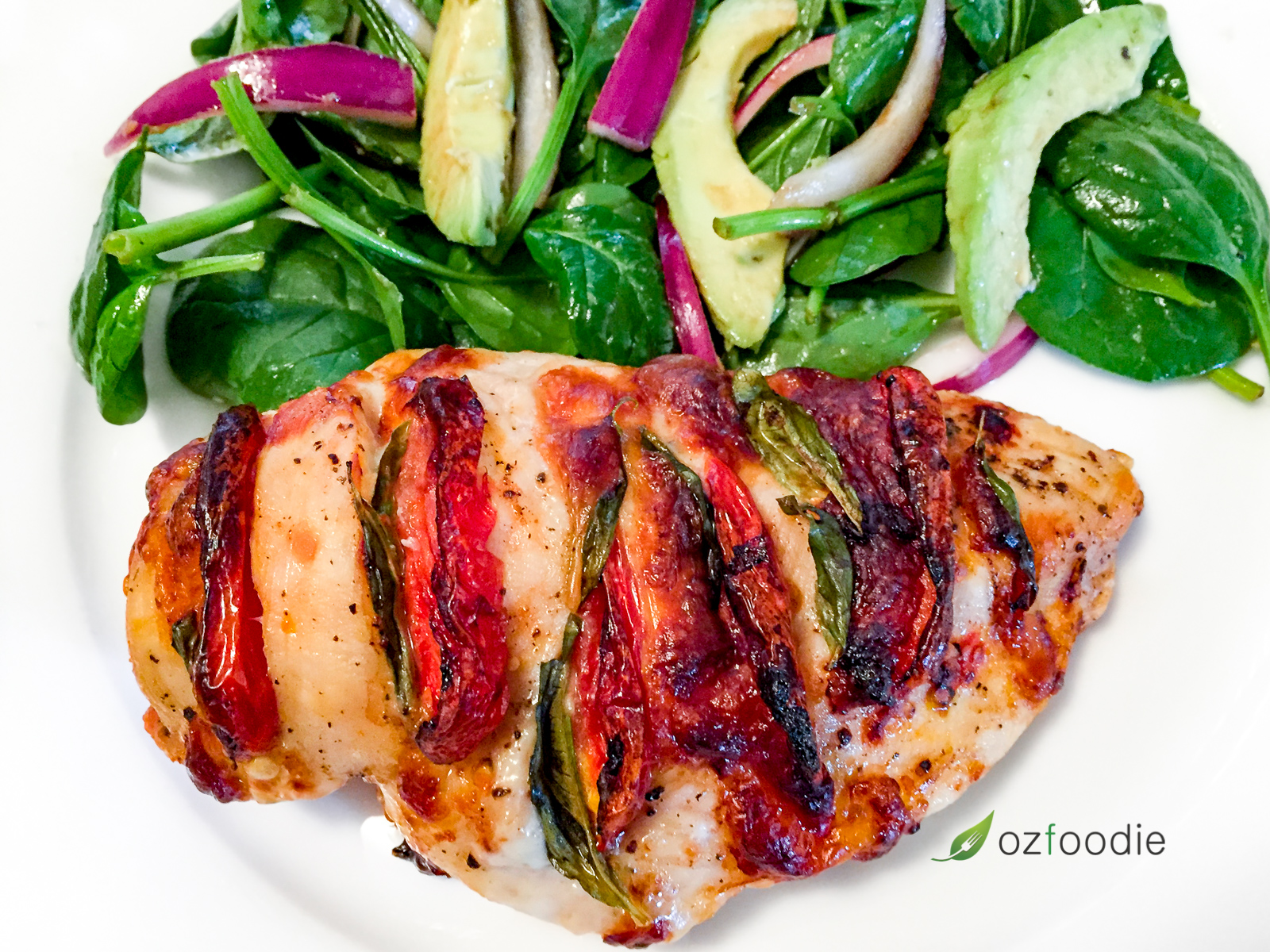 It's been one of those days.
It started yesterday, as these things so often do. Last night was a shocker. Hubby and I went out for dinner at a local pub. Mindful of keto eating, I asked for my grilled fish to be cooked in olive oil or butter instead of the industrialised seed oils typically used by restaurants. I was stunned when they flatly told me, 'No.' I couldn't think of a single reason why they would refuse, except that they didn't have healthy oils on the premises. I ate the fish anyway, but with little joy.
Later, it took hours (and hours, and hours) to get to sleep. Reading a good book does that to me for some reason, especially one that's hard to put down… but I digress. This morning I woke up exhausted. From that moment, the whole day was go-go-go with work and errands. I felt like I'd walked the length and breadth of Perth, though I'd actually only driven it. (Not really—you'll soon learn I'm somewhat prone to hyperbole.) I'd eaten my usual late breakfast around 10:30am and by the time 4pm rolled around I was ready to eat again, but my back was achy and all I wanted was to sit down. Preferably with a glass of wine. Seriously, the last thing I felt like doing was cook. Yet there was nothing I wanted—needed—more than a nourishing meal.
I resisted the siren call of the couch and opened the fridge door. I could see two chicken breasts I'd had the foresight to defrost the night before. I looked to see what else was there, and there wasn't much. I grabbed some cheese and tomatoes and picked some fresh basil leaves, and stuffed them all into cuts in the chicken breasts. While that was doing its thing in the air fryer I rustled up a salad of baby spinach, red onion and a balsamic dressing. It could hardly have been easier. Half an hour after entering the kitchen, dinner was on the table. Not bad! And it tasted sensational.
Plus, the whole meal (including the salad) was just 4.3 grams of net carbs. The chicken itself is 0.8 g net carbs. Winning!
Note: Net carbs is a term used to describe what's left after fibre has been deducted from total carbs. The theory is that fibre goes through our bodies largely undigested, and has little or no insulin effect on the body. Therefore, there's no need to include fibre in the carb count.
I hope you enjoy this delicious meal. Let me know what you think in the comments!

Air Fryer Hasselback Caprese Chicken Recipe
This easy chicken dish takes its inspiration from a Caprese salad and is bright, colourful and packed with flavour. It takes just minutes to prepare and looks sensational, so it's perfect for both busy weeknights and fuss-free dinner parties.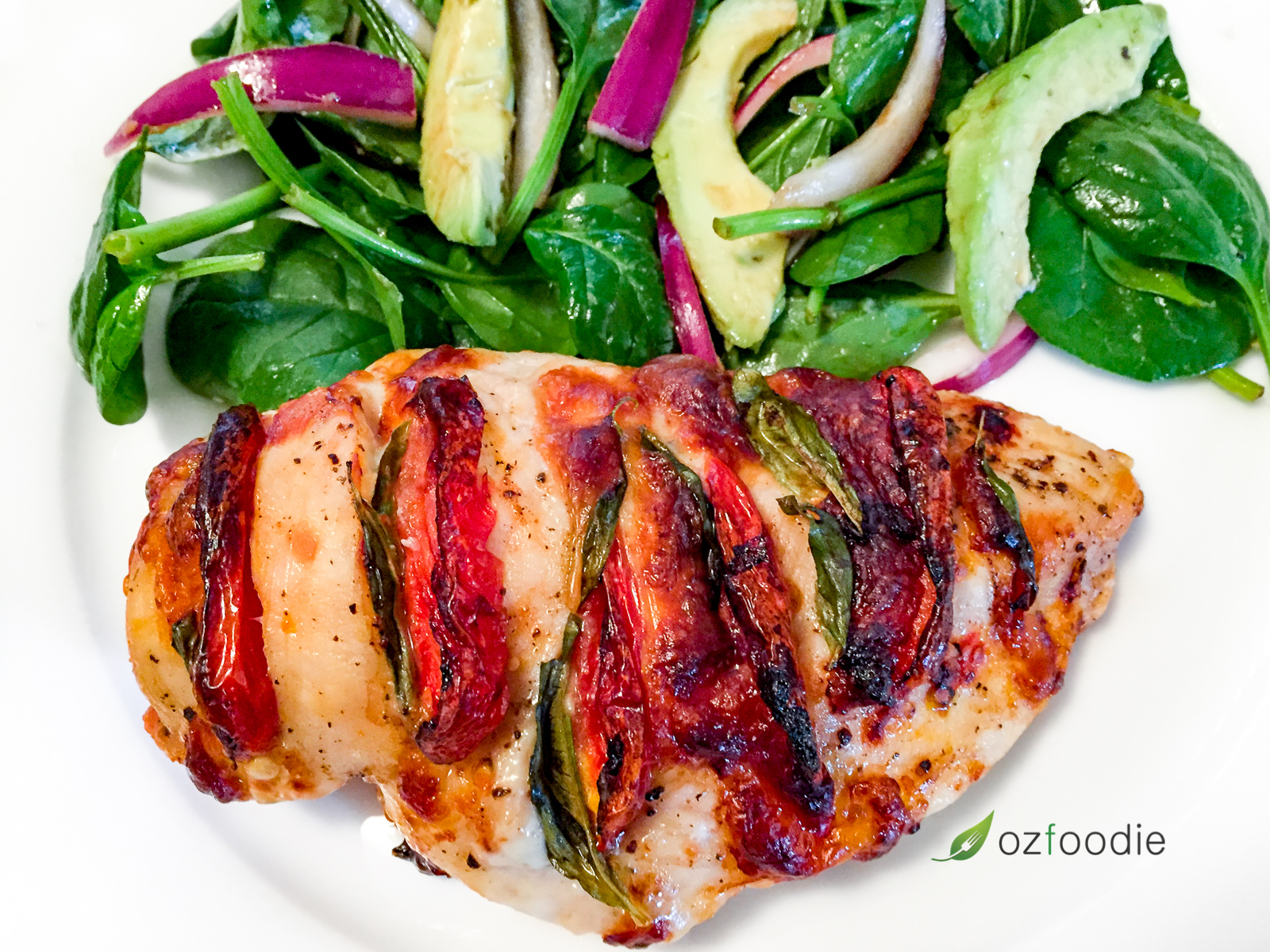 Ingredients
2 skinless chicken breast fillets (about 500 g)
salt and freshly ground black pepper, to season
3 tsp extra virgin olive oil
3-4 large grape tomatoes, each cut into 3 slices (or 6-7 small, each cut into 2 slices)
50 g mozzarella, sliced
¼ cup fresh basil leaves
Instructions
Cut slits in the tops of each chicken breast about 1 cm apart. Make the cuts as deep as you can without cutting right through the fillet, and don't extend them quite to the edges. This way each one will form a pocket.
Sprinkle salt and pepper over each breast and brush with olive oil.
Into each pocket press in a piece of sliced mozzarella, a slice of tomato, and a basil leaf or two, depending on the width of the pocket.
Place the breasts in the air fryer basket (or a pre-heated oven) and cook 15-25 minutes at 180ºC. The time will depend on your air fryer (if using) and on the thickness of the chicken. (Mine were quite large and took 23 minutes in my Maxkon 5.5L.) To test for readiness, gently pull one of the pockets open at the thickest part of the largest breast. When the innermost flesh is white and opaque, they are done.
Serve immediately and enjoy!
7.8.1.2
9
https://ozfoodie.com/air-fried-hasselback-caprese-chicken/